Perfect For:
Corporate Groups
The Adventurous
Charity Fundraising
TV & Media Events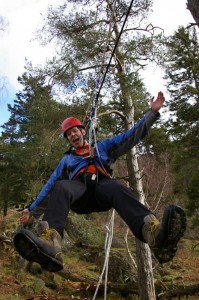 Ziplines and Tyrolean Traverse
Do you have a head for heights?
Then why not incorporate the thrill of a zip line into your adventure day or charity fundraising event?
UK Challenges can build and run either temporary or permanent zip-lines and tyrolean traverse for your charity event, or as part of a corporate training programme.
We are able to provide advice, delivery and technical support in your area if you wish to run an event anywhere in the UK.
We have the skills and knowledge to construct in either a natural or man made environment.
We do have several stunning locations here in the Lake District for zip lines or a tyrolean traverse, or we can travel to any part of the UK, which ever you prefer, we can give you a thrill to remember.
We offer a professional, personal service.
Every zip slide is different, no two are the same, we always carry out a site recce before we commit to taking on your work.
If you are thinking of organising a charity zip wire, please contact us, we can offer advice even if you decide that you do not want our services.
We can also help out with TV and film production.