Perfect For:
Charity Fundraising
TV & Media Events
Corporate Groups
The Adventurous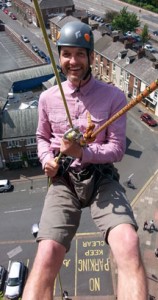 Charity Abseils
Do you have a head for heights?
Then why not incorporate the thrill of a large abseil into your adventure day or charity fundraising event?
UK Challenges can set up an abseil almost anywhere! With heights ranging from 20m through to 100m. We use mountain cliffs, quarries, bridges, viaducts, buildings or industrial towers. You can come to us, or we can travel to you.
Abseiling is great fun and a rewarding challenge. The hardest part is the first step over the edge but once at the bottom you will feel a inner glow of accomplishment and exhilaration. Your instructor will give you the confidence to take that first step and overcome the natural fear of heights.
We are able to provide advice, delivery and technical support to you so that you can run an event anywhere in the UK.
We do have several stunning locations here in the Lake District for large abseils, we can give you a thrill to remember.
Unlike many other sponsored events, abseiling can be undertaken by people of all abilities meaning anyone young or old, fit or un-fit can have a go and raise money for your charity.
If you are thinking of organising a charity abseil, please contact us, we can offer advice even if you decide that you do not want our services.
Large group abseils are a great way to bring people together. A fantastic way of raising money for a charity.
Please note – when charity fundraising, it is only viable to do this with a group of 10 or more. With smaller groups, it is better to use a rock face, instead of a building.